7/27/20 "That Got me to Thinking…?" Chapter 7 "Permann"
By Bruce Williams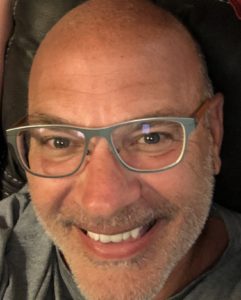 Hopefully everyone has the opportunity to have a best friend growing up–one whose parents know you as well as (or better) than your own, whose clothes you might borrow, whom you might be just as likely to fight with as you would be to ride your bike pell mell over to their house. My best friend growing up was a kid named Permann.
Often Permann and I would spend at least one of the weekend nights at each other's houses–usually me at his, as his family had way better food than mine and he was their only kid (his sister was older and had moved out in a pique of rebellion). His mom regularly made some heavenly concoction she called "strudela" that I couldn't get enough of (meat, cheese & potato baked into a breaded framework), or Permann himself would heat us up some po'boys, fry up some cheeseburgers or bake us a pizza. Everything was smothered in parmesan and bacon bits–including corn, the only vegetable he would consent to eat at the time. The fact that he's now a health guru proffering smoothies and an outdoorsy lifestyle is irony-plus. He proudly featured a waterbed in his room, and had all the cool Nike posters of the era: Dr. Dunkenstein, Iceman, Chocolate Thunder, Silk (Jamaal Wilkes). He also had every 80's hair band to crank up on his stereo: Poison, Cinderella, Motley Crue, Kiss, Ratt—you know, have makeup/will rock.
We'd spend our time tossing the old Itza football out in their manicured front yard. His dad was the head groundskeeper for the Olympia Brewery so their yard was always immaculate. The Itza was the Nerf's lesser known, but possibly more huckable brother–a squishy, rubberesque undersized beauty that could be launched across the yard's vast expanse, its shadow being chased relentlessly by Freckles the gregarious family dog. Permann's main sport was basketball, though, and he'd endlessly victimize me on their home court, teasing me mercilessly as he piled up his lead, "One-and-oh, Bruce-and-Smo'"; "Two-and-oh, Bruce-and-Smo'" linking me repeatedly with some girl from school he had mirthfully convinced himself was going to be my future bride, whether I liked it or not.
When Permann would spend the night at our house, he'd have a nice repartee with my mom, whom he lovingly called "The Missus" when she was laying down the law, telling him he was going to go to church with the family on Sunday or that he was going to eat what she was serving and he was going to like it. My sisters still talk fondly about when he'd pull his shirt up, flop his stomach on the edge of the table, clutch it together and make it talk to everybody with an assumed, comical voice. Even my mom couldn't help laughing at this absurdity, forgiving its benign intrusion on the fine meal that she'd prepared. On one particular overnighter, when his parents were out of town and we went to the State theater in downtown Olympia to see a movie with my sisters, Permann somehow tripped on the curb, falling forward and knocking out his two front teeth, blood gushing everywhere. It was brutal, but I think it was my mom that got him to the ER.
We'd often wrestle with his dad, a wiry little mustachioed piece of iron that could somehow handle us both, even as we grew. Still, we'd pull a sneak attack and try to execute WWF moves on him to no avail. Superfly Snuka, Rowdy Roddy Piper, Hulk, Jake the Snake, Mr. Wonderful, Sgt. Slaughter…they all had signature moves and we'd attempt them all as we narrated our own perceived prowess. His dad also was kind enough to bite his tongue when I crashed Permann's relatively new motorbike into the ditch, bending the front forks irreparably. I was lucky to run into "The Bobby P" at a high school football game awhile back, and spent the game's entirety walking the track and catching up with him like a day hadn't passed in 25 years, with the exception that I was now seeing him through a grown man's eyes.
Things are never the same once puberty hits, but we'd still roll out together sometimes in either his Charger or my orange Datsun pickup (later dubbed "The Tijuana") to get some pizza and mojos at Shakey's or to sneak into the Capital Mall Cinemas using the ticket stubs we'd find discarded outside the theater exits. We both started dating girls, so that took most of our energy and attention. Gone were the days of floating the Deschutes all day on inner tubes, or rehashing the story about the mythical boogerball he claimed to have seen in one of the neighbor kid's rooms once during a harrowing birthday party. We lost touch after high school for some time, but now, due to the miracle of social media, have been able to span that time gap and see each other's families and what we've become, laughing about our once-shared ridiculousnesses.
One last thing…take a minute to think about that one best friend (or two) you had while you were growing up….simmer on it for a minute or two. I hope it'll make you smile—even if it's just a little bit. Peace.
www.elisportsnetwork.com